Matching Family PJs are a trend that started a few years back and it is definitely not going out of style anytime soon! It started as something families were partaking in on Christmas Morning and has stretched onto more holidays like Halloween and Easter! We particularly LOVE it for multiple reasons. It's a fun way to get the family together, involved, and the picture opportunities are ENDLESS. Each year you can change up the theme and put one person in charge of choosing what it will be! 
Our PJ GO TO shop is Hanna Andersson. The quality is amazing and the PJs are super comfy and soft. Perfect for your littlest one! They offer special discounts all season long but we like to sometimes invest in their non-holiday specific, striped PJs so everyone is comfortable wearing them all year long! 
Do you have a Disney Trip planned this holiday season (who doesn't right? LOL) – Hanna Andersson also has fun Disney themed PJs that are specifically designed for each of your little ones in mind!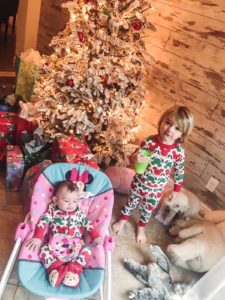 A lot of companies are jumping on board with the Matching PJs trend so finding sets that fit both your budget and vision is easy! We purchased these from JCPenney for a fraction of the price most sell for!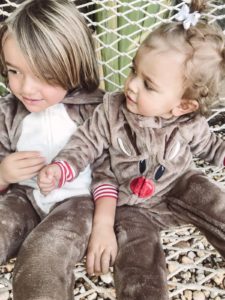 The important part is that everyone is having fun and building memories together all season long. We wear ours when we go look at Christmas Lights, and even when we pick out our Christmas tree. Someone did however think my husband was a big bear one time instead of a Reindeer. LOL That, however, was a PJ fail.