NO movie night is complete without popcorn and candy! One brilliant thing Popped Passion does is combine the two! Take traditional, simple Popcorn, drizzle it with some chocolate and top with your favorite munchies and you got yourself a delicious bowl of goodness that will probably be gone way before the movie is over! Creator of Popped Passion Maria Bailey uses this go-to Holiday Recipe that can be whipped up in under 10 minutes and decorated however you like!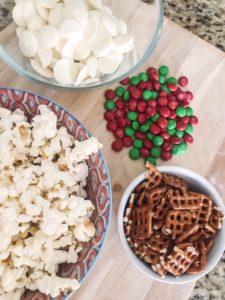 HOLIDAY CHOCOLATE GOURMET POPCORN
1/2 cup popping popcorn kernels, or 2 bags tender white popcorn
1 (12 oz) bag Vanilla Candy Melts
1 1/3 cups broken pretzel pieces
1 (12 oz) bag green and red Milk Chocolate or Mint M&Ms
Red, green and white Sprinkles
Pop popcorn in a popcorn popper into a large bowl (or alternately in the microwave if using microwave bags of popcorn) according to manufactures directions. Remove any unpopped popcorn kernels. Toss in broken pretzel pieces and M&Ms.
Melt Vanilla Candy Melts in a microwave safe bowl on 50% power in 30 second intervals, stirring after each interval until melted and smooth. Drizzle half of melted chips over popcorn mixture, then stir, tossing gently a few times with a rubber spatula. 
Then drizzle remaining half of melted chips over popcorn, and gently stir mixture until evenly coated (don't over stir though or your sprinkles wont stick if the white chips begin to set and harden). 
Pour mixture into a single layer onto wax paper. Sprinkle entire mixture evenly with sprinkles (as many as you'd like) before vanilla chips set. Allow to cool and harden, then gently break into pieces and store in an airtight container.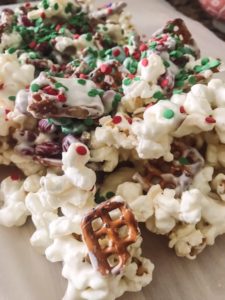 This recipe can also be made and given as gifts to your neighbors, co-workers, or family and friends! Don't have the time or resources to make a whole bunch check out Popped Passion's gifts HERE.