This time of year can be jam packed with school pageants, shopping, and late night present wrapping that we sometimes stop and think wait…. when am I going to see my girl friends again? LUCKILY, Gal-entines has become a THANG recently and that's already on our calendar, but seriously, mid-December we start to enter coo-coo mode and need some friend time. THAT IS WHY we have continued our Annual Cookie Exchange ALL THESE YEARS… even after having kiddos. 
If you haven't heard of a Cookie Exchange OR maybe you thought it was something only your MOM and her friends did, kind of like Bunco, we are here to shake you and SCREAM…. send out those Facebook Invites, start those ovens, and get ready for a delicious, and surprisingly, competitive good time!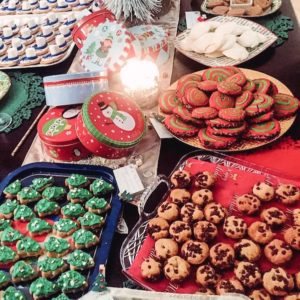 This year marks our 7th ANNUAL COOKIE EXCHANGE and here is everything YOU NEED TO KNOW to host your very own!
Send out Facebook invites or even Evites at least 2-3 weeks in advance. We know the peeps that host their Annual get togethers, Santacon, or just don't like to leave the house in the cold and need that extra time to plan! DON'T bother sending actual invites in the snail mail – A.) You'll waste a lot of time designing B.) You'll save money C.) A lot of invites this fun time of year get lost in the mix of all the Holiday Cards and D.) Who has time for that?!

 

TELL your guests to make 3-4 dozens of 1 type of cookie. If you have super ambitious friends that want to make a few different types of cookies just stress that it is important they bring several dozens of each so that there is enough to share aka EXCHANGE!
Come up with a salty good menu to offer your guests. We generally host our Cookie Exchanges on a Sunday around 2:00 pm – so you don't have to serve a full on meal but everyone needs some finger foods to go with their Cookies and Drinks! WE almost always serve these Chicken and Waffle Party Bites (Along with some other hors derves). They are super simple and they allow you to focus on your baking instead of your menu!
WINE or your Favorite Holiday Inspired Drink is a MUST! BUT be sure to include some sparkling water (add some mint, lemon or raspberry if you are feeling extra sassy) for your pregnant friends or your girls that don't drink!
Give out AWARDS!!! We crown 3 winners each year, and let me tell you…. the competition is FIERCE. You can come up with your own titles but we give out prizes for:

 
 The Best LOOKING Cookie
The Best TASTING Cookie
        The Best ALL AROUND Cookie
One year we handed out a "Bless Her Heart" Award to the girl that really, really tried but came up with a serious Pinterest FAIL. We found it hard to vote because everyone gave it their all – but you may have some fun with that one!! 
Most importantly, HAVE FUN and celebrate this time with your BESTIES! Dress up, take pictures, leave the cleaning until the next day and truly soak up everything this time of year is supposed to be about!!!